Press
Specialized press' comments

La Journée Vinicole

"A guide for export to the U.S., The Wine Exporter is a valuable source of information about the wine-market, including detailed files on over 400 importers, distributors, retailers and agents in the U.S.A."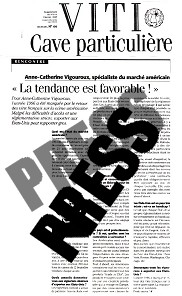 Midi Libre
" A market that Anne-Catherine Vigouroux, a specialist about the U.S., knows perfectly ...."


La Vigne
" Anne-Catherine Vigouroux sold wine to Americans for 15 years : she now offers others to benefit from her experience. ".

Anne- Catherine' s news
Editorial
News
Tourism : Discover the Californian vineyards!

Diffusion list
Get your copy of our editorial in your mail !

Live Chat


Anne-Catherine VIGOUROUX's background.

In the eighties, Anne-Catherine VIGOUROUX went to the United States in order to promote the wines from the South West of France, and specifically the "Black Wine of CAHORS". She then travelled around the country and met a lot of importers, distributors, major retailers as well as journalists.


Her books



Anne-Catherine
VIGOUROUX has since published 2 major books on wine-importers in Europe and in the USA.



Our selection of domaines

Anne-Catherine's experience allows her to approach importers of wine worldwide with a selection of fine domaines wines . Our selection..



Our on-line chat

For several months, we have been able to use the new concepts offered by the web : It results in an on-line chat, offering on-line consulting and conferences. Rendez-vous with us at a precise date and hour and we'll be delighted to chat with you and your representatives (wherever you are in this world !) for the price of a local call. Determine a date ?